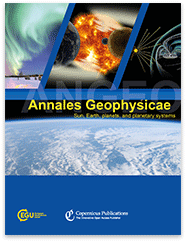 Editors-in-chief: Ioannis A. Daglis, Christoph Jacobi & Ingrid Mann
Annales Geophysicae (ANGEO) is a not-for-profit international multi- and inter-disciplinary scientific open-access journal in the field of solar–terrestrial and planetary sciences. ANGEO publishes original articles and short communications (letters) on research of the Sun–Earth system, including the science of space weather, solar–terrestrial plasma physics, the Earth's ionosphere and atmosphere, the magnetosphere, and the study of planets and planetary systems, the interaction between the different spheres of a planet, and the interaction across the planetary system. Topics range from space weathering, planetary magnetic field, and planetary interior and surface dynamics to the formation and evolution of planetary systems.
News
29 Oct 2020
Institutional agreement with ETH Zurich now for corresponding authors
As of 1 November 2020 the direct settlement of article processing charges (APCs) between the ETH Zurich and Copernicus Publications will be valid for corresponding authors.


14 Oct 2020
Volunteer to be an EGUsphere preprint moderator!
EGU is seeking scientists who want to gain experience in the realm of scientific publishing to pre-screen manuscripts submitted to the Union's new online platform.


30 Jun 2020
Update of journal metrics
The journal metrics were updated and the current numbers are available from the metrics box on the left-hand side.